Strenue - Strenue - March 2019
---
Johannesburg East District Awards for 2018
King Edward VII school featured very prominently at the JE District Awards for the 2018 Matric year.
KES was awarded 1st in Public Schools and 1st Overall in the District.
The following Awards were received for achievements in the JE District:
Stephen Newland-Nell – Top Mathematics student
Oyama Mdladla – Top isiZulu student
James Keane Quigley – 2nd in the District
Nabeel Fazluddin – Top student in Accounting, Life Sciences and Physical Sciences
The following Subject Departments were recognized for their top performances:
Accounting
English
History
Mathematical Literacy
Physical Sciences
Afrikaans
King Edward VII was also acknowledged for the 100% pass rate and then received the certificate for the Top Achieving Best Performing School in the Johannesburg East District.
Well done to all for the excellent achievements.
---
Matric Results 2018
Well done Class of 2018 on these outstanding results!
Pass rate: 100 %
Bachelor's pass: 85.6%
Diploma pass:12.3 %
Tertiary Qualification: 97.9 %
No. of Candidates: 195
No. of Distinctions: 248
Distinctions per Learner: 1.29
TOP ACHIEVERS 2018:
9 DISTINCTIONS:
N FAZLUDDIN
JK QUIGLEY
7 DISTINCTIONS:
S NEWLAND-NELL
6 DISTINCTIONS:
DSR KRUGER
5 DISTINCTIONS:
LM ARMSTRONG
A MC DONALD
K MORSE
U SALAJEE
U SHEIKJEE
4 DISTINCTIONS:
K ALCOCK
DM CURTIS
E OHONBA
M TITTERTON
GRADE 12 TOP ACHIEVERS (2018) ACCORDING TO AGGREGATE ACHIEVED:
(The following Matric Learners all received an A Aggregate) 
| | | |
| --- | --- | --- |
| LEARNER | PERCENTAGE | POSITION |
| NABEEL FAZLUDDIN | 93.4 | 1 |
| JAMES QUIGLEY | 91.0 | 2 |
| STEPHEN NEWLAND-NELL | 89.6 | 3 |
| DYLAN KRUGER | 86.6 | 4 |
| KEANE MORSE | 85.9 | 5 |
| MATTHEW TITTERTON | 85.9 | 6 |
| LIAM ARMSTRONG | 85.6 | 7 |
| DYLAN CURTIS | 81.9 | 8 |
| KEENAN ALCOCK | 81.6 | 9 |
| ARON MC DONALD | 81.3 | 10 |
| THATO MASHIYANE | 80.6 | 11 |
---
Welcoming New Staff
A warm welcome to the following new staff members joining us in 2019:
Mr Simon Bosman (English)

Mr Paul Galbraith (School Psychologist – Mr Galbraith has been with us for some time on a part-time basis but has now joined KES in a permanent position.
Mr Chris Tomsek (Maths, Geography, Social Studies)
Mr Looch Adriaanse (Social Sciences, Life Orientation and Technology)
We look forward to your having you as part of the Red Family!
---
King Edward VII School – Annual Water Polo Tournament – 2019
The KES Water Polo Tournament of 2019 took place 1 – 3 March.  16 Schools across South Africa took part in this annual event and the spirit shared among the players, passion for the sport and support from friends, families and old boys resulted in a great weekend for all!
MESSAGE FROM THE HEADMASTER
It is my pleasant task to welcome all the visiting schools, coaches, parents, principals and supporters to participate and enjoy this Tournament with us. This year we are honouring Roley Wright the founder of the Edwardian Cup. Roley sadly passed away on Monday, 28 January 2019. Roley`s family will be joining us on Sunday to make the very first presentation of the Roley Wright Trophy.
We are again privileged to play host to the finest Water Polo schools in the country and to be treated to schoolboy Water Polo at its best. The King Edward VII Staff, Eugene Marx our Sports Director, Ryan van Rensburg Master in Charge of Water Polo who have worked relentlessly to bring about another enjoyable sporting weekend, Ms Derron van Eeden the event's organizer, as well as Mr Guy Pinker for organizing the referees have all provided invaluable advice and support to ensure this event remains the most prestigious Water Polo tournament on the South African
Schools' calendar. This is usually a combined effort by host and participants which collectively ensures all runs smoothly. I thank each contributor for their input.
To conclude, I also thank our sponsors, Spur, Conti, Mrs Anne Vilas for her constant and much appreciated support of our School.
Have a most enjoyable tournament! 
David Lovatt
Headmaster
Final Scoreboard:
SACS
St John's College
St Stithians College
Bishops Diocesan College
Jeppe High School for Boys'
Clifton School
Rondebosch Boys'
Grey College
St Andrew's College
Westville Boys'
Pretoria Boys'
Hilton College
King Edward VII School
Maritzburg College
Wynberg Boys'
Parktown Boys'
Trophy Winners:
Edwardian Trophy – South African College High School (SACS)
Fair Play Trophy – South African College High School (SACS)
Watt-Pringle Trophy – St Andrew's College
Roley Wright Trophy – Jordan Thomas (SACS)
Guy Pinker Trophy – Liam Dawson (SACS)
Tournament Team:
Liam Dawson – SACS
Sam Elliott – Bishops
Troy Fisher – Rondebosch Boys'
Mike Ford – Bishops
Cameron Hobbs – St Stithians College
Ricky King – Grey High School
Oliver Krynauw – St John's College
Kelvin Kuperus – Jeppe High School For Boys
James Norman – St John's College
Ayrton Psannis – Clifton School
Luke – Sawlaws – St John's College
Jordan Thomas – SACS
Sebastian Williams – SACS
---
Outstanding Sporting Achievements – Term 1 2019
Red Machine Captain Bryce Parsons makes SA U19 Team
Congratulations to our Red Machine Cricket Captain, Bryce Parsons, on his selection to the SA U19 Team! Over the school holidays Bryce played in the Khaya Majola Coke Week in Cape Town and the newly selected SA U19 Team will tour India next month.
"We played 6 games and won 5. We were privileged to play the final against Western Province at Newlands in Cape Town and won!
At the closing ceremony I won "Player of the Tournament" and was selected into the SA Schools Team. This played a vital role in making the SA U19 tour to India starting on the 16th February."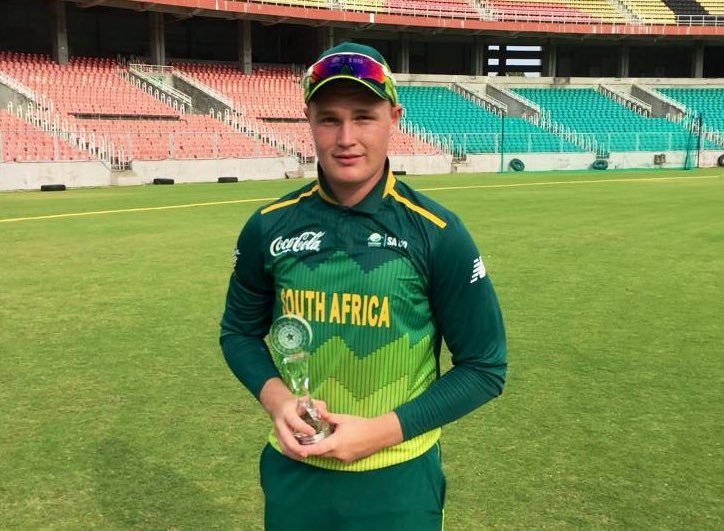 Tour Update: Our KES 1st Team Captain Bryce Parsons took 6 wickets in his first innings in India!  He took home the Player of the Match award for his knock of 40 (50) and figures of 2/32 in his 10 overs
SA Junior Men's Water Polo Selection
Congratulations to our Deputy Head Boy Muhammed Rawat on being selected as the Goalkeeper for the South African U19A Water Polo side that will play at the Junior World Championships later this year in Czech Republic.
"My favorite part about playing water polo is the thrill of being able to be the team's stopper, as well as having the priceless opportunity to play with my peers who have been in my team for a number of years, from the time I started playing this sport.
The hardest thing, and I hope that Mr van Rensburg won't take note of this, but it is definitely doing swimming fitness haha!
My training programme leading up to polo championships, is to continue training for about 5 or more days per week. It is jam packed, however training almost every day, be it by myself or with the team is something which I look forward to, in the hope of honing my skills further.
I, without doubt, look up to my brother. He taught me the fundamental polo skills, being a goalkeeper as well. His involvement in the sport at primary school level can be attributed to me coming into the sport, and the constant support and advice which he gives and has given me goes a long way, making him my polo role model. He has been a beacon of inspiration, as growing up, I aspired to play in his position and one day captain the KES polo side- we now debate who can save each other's shots"
Good luck Mo, the School is behind you all the way!
National Baseball Championships
The following KES boys have been selected to participate in the National Baseball Championships to be held in Port Elizabeth at the end of March 2019
Kian Schwartz U18A
Kyle Schwartz U15A
Aiden Schwartz U15A
Jason Hutton U15A
Cuan Hoffman U15A
Joshua Barrett U15B
Robert Emmett U15B
Well done lads!
Cuan Hoffman & Jason Hutton are missing from this photo
Fly Fishing in Czeck Republic
Jared Hughes, currently in Gr 10, represented the Mpumalanga Fly Fishing association in the 2018 National Fly Fishing competition in Du Toit's Kloof rivers and dams in the Western Cape.
His performance over the tournament has helped him to finish 6th overall in the country at the SAFFA Youth Nationals and Mpumalanga achieved a Bronze medal overall.
As a result Jared was invited to trial  for the Protea team in the Kamberg area in KZN in 2019 and his performance has helped him achieve his SAFFA colours representing SASACC to tour the Czeck Republic in May 2019!
Well done Jared! We wish you the best of luck in May!
Central Squash Tournament
Squash: Well done to our RED machines, Muzi Buthelezi and Joshua van der Wath, on winning the Central Gauteng Open U16 and U19 championships respectively!
What a great achievement! Go School!
Rowing SA Champs
King Edward VII School came 4th overall in the SA Schools Rowing Championships this past weekend with the KES U14 crew placed 2nd in their age category overall!
More than 40 schools and clubs from South Africa and Zimbabwe took part in the three day event.
The KES crews did extremely well with 7 medals and achieving personal best times in many events!
Go School!
TOP 15 Athletics Meeting
KES took 15 athletes to compete in the TOP 15 Athletics meeting at UJ Hosted by Noordheuwel.  There were only selected entries and we entered as an invitational team as the event is for a co-ed teams.
Well done to Lythe Pillay who won the boys Victor Ludorum!
---
Old Boy News from around the World
Old Boy Rower Thabelo Masutha Makes History
Old boy Thabelo Masutha (Class of 2016) made history as a Tuks Sports rower at the East London's Buffalo Regatta. 
Thabelo won the Silver Single Sculls-race at the Buffalo Regatta recently and at the age of 19, he is the youngest winner ever of  the converted trophy.
Full story: Click here
Photo Credit – TuksSport
Old Boy Nicholas Bester – SA Speedster Aims To Make It Three In A Row At 2019 London Marathon
Running the Virgin Money London Marathon is a pretty special experience, but when you cross the finish line as the first South African home two years in a row – and within the top 100 runners in a 40 000 strong field – it is an achievement to cherish forever.
Full story: Click here
Old Boy Lliam Davis kicking it State side
Old Boy Lliam Davis headed across to the States to the Admiral Farragut in Tampa Bay, on a Soccer scholarship and while his main aim was to he play soccer for his school he was also selected for the Florida State First Team as a kicker in American Football in his division!
Lliam has played soccer for his school and they made the State of Florida finals and lost by 1 goal.  In the season between Lliam and his midfielder they scored 38 goals and assisted in 32.
Full details on: Click here
Top Achiever – Old Boy Nabeel Fazluddin
Nabeel Fazluddin, Matriculant of 2018, achieved 9 distinctions, he was our top student last year with an average of 93.4% and he finished as the top student in Accounting, Life Sciences and Physical Sciences in the District!
We caught up with Nabeel recently and wanted to share a little with the current Matric students:
What have you decided to do this year?
I'm currently studying medicine at WITS.
Do you have any advice for the current Grade 12's based on your experience?
Don't burn out. Do everything in moderation. Find a good sitcom to watch during study breaks once exams start. I recommend the Office. It was the only thing that kept me sane during finals!
Would you have done differently in your Matric year?
I don't think that I would change anything from my Matric year. I don't mean that it was perfect, it's just that everything worked out in the end.
What do you miss most about KES?
I miss Ms. Meyers English class the most. Ironically, English was my least favorite subject. And I also miss my classmates as most of us have gone in our own separate ways.
We look forward to following this outstanding young RED gentleman in career!
Red Achievement: The Motul Roof of Africa Race
Old boy Ryan Sequeira, completed the The Motul Roof of Africa Race in Lesotho and finished 9th overall in the Bronze Class!
Many of the riders spent hours riding in severe thunderstorms this year and many did not finish the race! What an achievement Ryan – 9th out of 159 entries and only 66 of those managed to finish the race!
This race is held annually in Lesotho and riders travel from all over the world to participate in this 3 day event.
Day 1 consisted of a very exciting around the houses race and time trial (56km) to give them their starting positions for Day 2. Day 2 participants rode approximately 134km and a further 96km on Day 3, taking the riders anything from 6 hours to 14 hours a day!
We wish Ryan the best of luck in pursuing his passion!
Old Boy Catch Up: Keane Quigley
Keane Quigley matriculated last year with 9 distinctions, a 91% average and was recently awarded the 2nd position in the Johannesburg East District in the 2018 award ceremony.
We caught up with Keane recently to find out how things are going and what his plans are for his very bright future:
What have you been up to since you matriculated?
"Since matriculating I have continued with German language lessons and am aiming to finish the Kumon Maths programme which I have been doing since 2006. I am also spending time on online programming courses to make university slightly easier for myself and I have also begun to train gymnastics again."
What have you decided to do this year?
"Later this year, in March, I will be going to Munich, Germany to do an intensive German language course for the entire month. This is to immerse myself as much as I can in the language and hopefully become fluent by the end of the month. I also plan to begin learning another language (Spanish or Russian) and perhaps do a similar course as with the German. I will also be tutoring in my free time. Thereafter I will begin university in September, either at Imperial College London or The University of Edinburgh where I will study theoretical physics."
Any advice for the current Grade 12's?
"My one key bit of advice for not only the Grade 12's but also all learners would be the cliché to always listen in class. For me, it made it much easier when it came time to studying because I already had a good understanding of the work that was taught. It gave me more time to go over things that I didn't understand which, particularly for matric, prevented a lot of stress."
What would you have done differently in your matric year?
"Honestly, I don't think I would change anything about my matric year. It was definitely my favourite year at KES and nothing could have made it much better."
What do you miss most about KES?
"I will certainly miss KES. However I will mostly miss the people with whom I spent my five years. I will always remember the moments that made me smile and the people who made my high school career enjoyable."
Good luck Keane! We look forward to watching your future unfold!
Marx to captain Lions against Bulls
Well done to KES Old Boy Malcolm Marx who was named Lion's skipper for Saturday's (2 March) Super Rugby clash against the Bulls!
Full story: Click here
---
Cultural Achievments – Term 1 2019
Extra-Curricular Awards 2019
The Johannesburg East District had their annual Extra-Curricular Award Ceremony on Wednesday 30 January.  This is a very prestigious event where the athletes and cultural participants who have shown dedication, commitment, perseverance and leadership in their various fields are honored. These learners excelled in their fields while partaking in the Johannesburg East District Sports.
Barry Chung, Grad 10, was placed 3rd in the category of Best Male Athlete Of The Year!
This was awarded for the role he played in leading his U15 team to District Championships, and the contribution he makes to the upliftment of Chess.  He was selected from a large pool of nominations, from various sporting codes.
Well done Barry on this phenomenal achievement!
Public Speaking Festival 2019
Four of our KES learners competed in the High School Public Speaking Festival last week.
The festival was organised by the Speech and Drama College and the boys competed as a team, talking about the joys and sorrows of being a teenager.
The team was awarded an A – an outstanding achievement!
Left to right – Tim Berman, Nick Miot, Caleb Slooten & Dylan Kruger
King Edward VII 54th Annual House Plays
The finals of the King Edward VII 54th Annual House Plays took place on the 5th of March in the Hugh Wilson Theatre with Croft, Grimmer, Robinson and Davis performing on the night.
The evening showed great diversity with two original drama scripts juxtaposed against two comedies.
The overall placing of the houses' performances were:
1st – Robinson
2nd – Grimmer
3rd – Davis
4th – Croft
5th – Hill
6th – Anderson
7th – School
The awards were as follows:
Braithwaite Trophy for Best Play – Robinson
Best Comedy – Davis
Fourie Trophy for Best Play, Proxime Accessit – Robinson
Best Actor in the One Act Play Festival – Sinakho-Konke Ncala
Best Supporting Role Actor – Solon Polydorou
Best Actor in the One Act Play Festival. Proxime Accessit – Grant Greenfield
Cuan Van der Merwe Trophy, Best Female Actor – Seth Thorne
Matthew Jenner Trophy for the Best Director – Grant Greenfield
Environamics Set Award – Anderson
House Play Cameo Award – Matthew Greenfield
House Plays Best Original Script – Sinakho-Konke Ncala
Photographic Society – Term 1 2019
Each term the Photographic Society submit photos which are judged in their star level. (Awarded a bronze, silver, gold or a certificate of merit).
Well done to all the boys involved this term – what spectacular photos and an outstanding showcase of KES talent!
2 Star – A need for breath – Christopher Lindes
2 Star – A simple little waterfall – Christopher Lindes
2 Star – First Order – Khwezi Khumalo
2 Star – Heatwave – Khwezi Khumalo
2 Star – Raindrops – Abdullah Loonat
2 Star – Shades of Pink – Abdullah Loonat
3 star – Fairy Lights – Barry Chung
3 star – Traffic – Barry Chung
4 star – Doplets – Luca Gnudi
 Example: 
4 Star – Gods Highway – Benjamin Chamberlain
4 Star – Launch – Benjamin Chamberlain
4 Star – Looking Over the Top – Rahul Parbhoo
4 star – Pure Speed – Luca Gnudi
4 Star – The Ring- Rahul Parbhoo
5 Star – Butterbeer – Chad Gaddie
5 Star – Funny Faces – Zaeem Bhabha
5 Star – La Rosa – Chad Gaddie
5 Star – Rapunzel in a tunnel – Zaeem Bhabha
---
Down the Rabbit Hole
Matric Dance 2019: This year our boy's were treated to a night of wonder in the spectacular themed evening of "Down the Rabbit Hole".
The evening was hosted at the Birchwood Hotel and Conference Centre and our matric learners and partners out did themselves, looking very dapper and took to the night in true KES style!
Thank you to all involved and to our boys for making the evening a success!
---
Legends Bryan Habana and Dan Carter Surprise KES
On Wednesday 13 March, old boy Bryan Habana (Class of 2000) surprised the King Edward learners at half time in a friendly exhibition rugby match against Queen's High School! Bryan and the great New Zealander Dan Carter hid behind the scenes until the whistle blew at half time and the School went wild has the two heroes stepped onto the field.
Bryan and Dan were at the school to launch to announce their Ambassador roles for Mastercard and the Rugby World Cup 2019, and what better way to do it than on the field that Bryan's career was launched.
In the half time huddle, Bryan gave the KES players a few words of wisdom while Dan shared some tips with the Queens team.
And in true KES spirit, Bryan Habana joined in with the war cries at the end of the triumphant game!
What a privileged to have these two heroes share their stories and tips ahead of the Rugby World Cup 2019 and inspiring our young lads as we head into this winter rugby season.
---
KES Communication – Headmaster's Update
Dear Parents and RED Community,
2019 is now in full swing, and with this comes the opportunity of new beginnings. The School has a very exciting year ahead and believe that in order to keep being on the forefront of education, we need to continuously review how we do things, in all aspects of our School.
At the end of 2018 we said goodbye to our Director of Communications & PR, Lisa Slooten, after 8 years of loyal and outstanding service. Lisa continues as part of the Red Family as a parent, and in the Educational Media space, so we look forward to a new working relationship with her.
We welcome Cath Hammond into the role of Communications, PR & Admissions Co-Ordinator, whom many of you might already know from Admissions and as our School House Hostel Mom. Cath has a long history in communications working in a forward thinking Ad Agency prior to joining us in 2016 and brings a new view on communications.
This change has allowed us to review our communication stance, as we need to ensure our boys' are always our number 1 priority and that we do not add any extra pressure to their already stressful teenage lives.
With this in mind, we have made the decision to take a step back in 2019 and slow things down. The day and age we live in has moved everything online, so much so that this has somewhat removed the need for parental presence at sports fixtures and events, and while it is amazing how technology has allowed us to find out what is happening somewhere else, we believe that we need to bring the focus back into being present. In every sense of the word. Rather than the blow by blow accounts of the past.
Our social media platforms will still offer weekly updates on fixtures and events, as we thoroughly believe in sharing the good and the bad results, however we strongly encourage parents, old boys and learners alike to be here to support our boys in full force, as our Red Army has always so proudly done.
Additionally, we will remove the ability for our community to comment on our Facebook page in order to protect our young men from the negative and often disparaging comments made.
We need to remember that we are a School, the best School, and what is communicated via social media, both by us and responses from the Red Community, is permanent and I call for everyone to use 2019 as the year to really think about the way we use the KES platforms.
In terms of our new communication strategy, this will echo parts of our new mantra that we will aspire to this year:
Work hard (and work smart)
Speak gently (words can be very hurtful, as is tone)
Love much
Think deeply (consider the reaction to your action)
Laugh a lot (be happy)
Give freely (of yourself and to others)
And above all, be kind
D C P Lovatt
Headmaster