Strenue - Strenue - March 2020
---
Matric Results & District Awards
King Edward VII Matric Results 2019:
Pass Rate: 99.5%
Bachelor's Pass: 84.36%
Diploma Pass: 14.69%
Tertiary Qualification: 99.05%
No. of Candidates: 212
No. of Distinctions: 313
Distinctions per learner: 1.48
Well done Class of 2019!
District Awards
The JE District Awards were held at Sandown High School on 28 January to recognise the achievements of the 2019 matriculants.
KES Awards:
Muhammad Rawat:
Received awards for being the top learner in the district for English Home Language, Life Sciences and Life Orientation as well as for being the top achiever at a Public School.
Joshua Ruthel:
Placed third in the district
Oratile Monnakgotla:
The following departments at King Edward VII School were acknowledged as the top performing school in the following subjects:
Accounting
History
Life Orientation
Mathematical Literacy
Congratulations to the learners and educators involved in these fantastic results!
---
KES Water Polo Tournament 2020
KES Water Polo Tournament 2020
The KES Water Polo Tournament was hosted by our neighbour St John's College due to the upgrade of our pool and the current construction of our aquatic centre.
Teams:
Final Results:
Final Scoreboard:
Reddam House Tokai
South African Colllege School
Bishops
St Andrews College
Clifton
St John`s College
Grey College
St Stithians College
Hilton Colege
King Edward VII School
Rondebosch
Westville
Pretoria Boys
Maritzburg College
Jeppe Boys
Parktown
Trophy Winners:
Edwardian Trophy – Reddam House Tokai
Fair play trophy – Hilton College
Watt Pringle trophy –  Hilton College
The Roly Wright Best Defender – S Hansen (Bishops)
Guy Pinker Trophy – L Dawson (SACS)
Thank you to all the Teams that travelled to Johannesburg to attend the annual Water Polo Tournament. A very special word of thanks to St John's College for hosting our tournament. To our sponsors, Spur, Conti, My Youth Aqua Sports, Mycomlink and Lemonlicious. To our own staff and learners thank you very much for giving up your weekend.
Full Gallery: Click here
Photo credit: Fanus – teamphotosa
---
2020 New Staff
2020 New Staff
Welcome to our new staff who joined us at the beginning of the year:
• Mrs K Van Rensburg – Finance
• Miss N Zondo – Admissions
• Mr T Lewele – Realema Teacher Intern Programme
• Mrs C Kruger – Afrikaans
• Mrs C Hadley – Accounting and EMS
• Mr S Kamffer – EGD and Technology
• Ms A Elflein – Physical Sciences
• Mrs S Abdullah Dawood – English
• Mr P Kruger – Mathematical Literacy and Life Orientation
• Mr J Green – Teacher Intern
---
Sport Achievements – Term 1 2020
Johnny Waite Knock Out Competition 2020
The prestigious 2020 Gauteng Schools cricket championship, namely the Johnny Waite Knock Out Competition took place in February 2020 at the University of the Witwatersrand' stunning Walter Milton Ovals.
Our 1st XI Team beat Jeppe by 22 runs in the semi final and made it into the final for another year! This meant we faced St Stithians in the final on the 23rd February. They won the toss and decided to bat first, mustering a total of 135.  The KES team battled it out on the field but despite a great effort, could only manage 124/7 in 20 overs.
On Wednesday 26th February, 3 of our other teams battled it out in their relevant finals and our 2nd, U16A and U15A teams all won their competition finals!
3 out of 4 wins is an incredible achievement! Well done lads!
Zest Fruit Gerrie Berner Tennis Festival
Well done to the 1st team who made it to the semi – finals at the Zest Fruit Gerrie Berner Tennis Festival hosted by Paul Roos! It was a tough tournament playing against very strong tennis schools! 
Midmar 2020
Zakariya Akhalwaya in Grade 9 represented KES at the Midmar 2020.
He swan along side Natalie Du Toit and other boys in order to raise funds for the Teddy Bear Clinic (http://ttbc.org.za/). They managed to raise R50 000 for the foundation.
All boys finished well within the time requirement!
Well done!
Senior Inter High Tennis Tourament
Outstanding tennis results at the Senior Inter High with our 1st Team coming in 1st place out of 21 schools! Well done boys!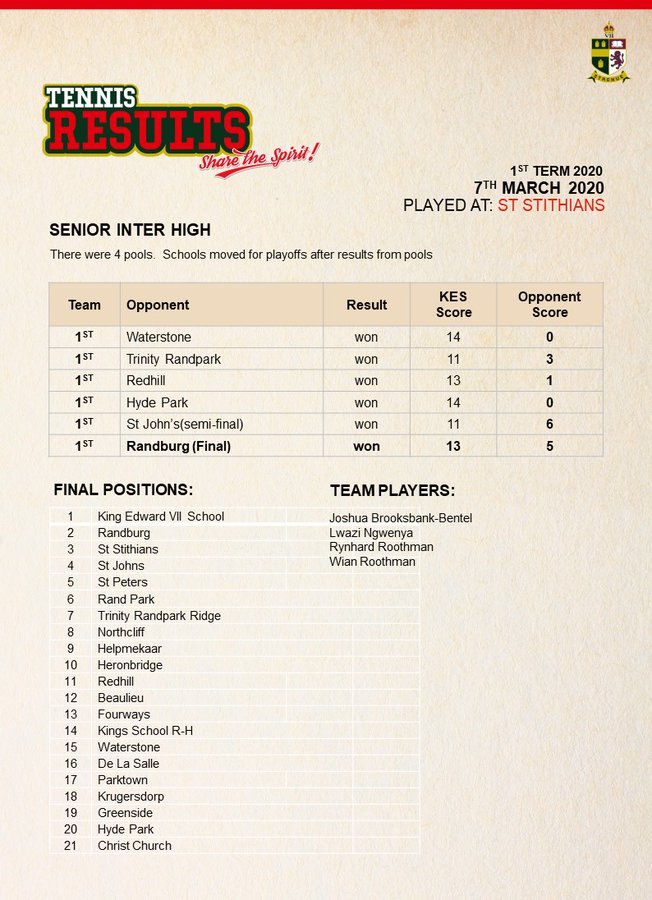 Indoor Cricket National Tournament
Congratulations to Daniel Lakin (Gr11) on being selected to represent the province in the U/18 Boys Eastern Gauteng team, at the forthcoming Indoor Cricket National Tournament. The tournament was due to take place in Pretoria from 22nd – 28th March.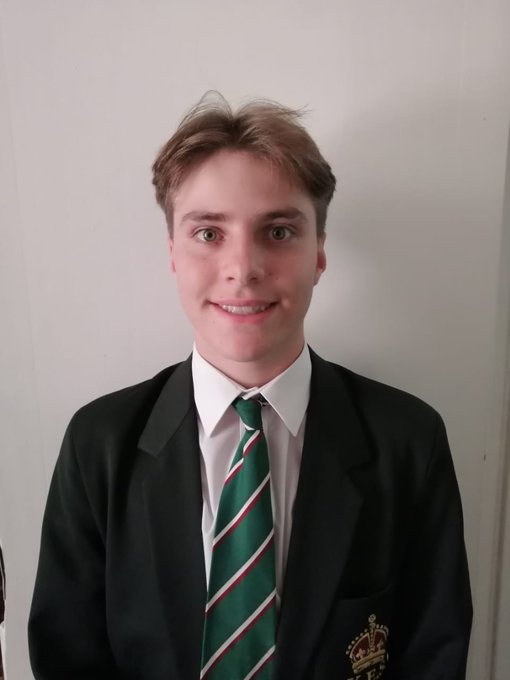 National Water Polo Representatives in Zimbabwe
2 learners 
represented KES at the CANA Zone IV tournament (Karabo Mamaregane U14) and the World Champs Qualifiers (Ethan Martin u18) in Harare in the beginning of March 2020. Full results on the C.A.N.A Instagram page. (@the_cana_official)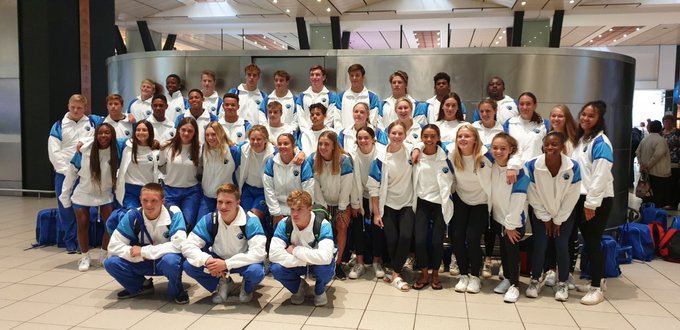 SA Rowing Champs 2020
The 2020 South African Schools Championships were held at Roodeplaat Dam in Pretoria in March and our rowers competed with tremendous results!
Results
U14
U14 A Scull – Silver – Dennis Chung. There were 8 boats in the final, with Chung getting Silver, Claro 5th place and Wilson 8th.
U14 A Quad – Silver – Brown, Chung, Matketos, Bratby, Wilson
U14 A Oct – Silver – Brown, Wilson, Chung, Bratby, Marketos, Mhkize, Watts, Francis, Lupuki
U15
U15 A Scull – Gold – Sam Williams
U16 
U16 A Sculls – Bryce came 5th
U16 A Double – Bronze – Bryce, Griessel
U16 A Coxed Four – Bronze – Bryce, Griessel, Sarakis, Rossouw, Potgieter
U19
U19 4+ Coxed Four – 5th Place
U19 2nd Eight – 5th Place
U19 1st Eight – Tenth Place
Baseball
Well done to the KES boys have been selected in the Gauteng U18A/U15A baseball teams which were due to compete in the Inter Provincial Tournament in Cape Town from the 22nd – 26th March 2020.
U18 A
Kian Schwartz

Aiden Schwartz

Kyle Schwartz

Cuan Hoffman
U15A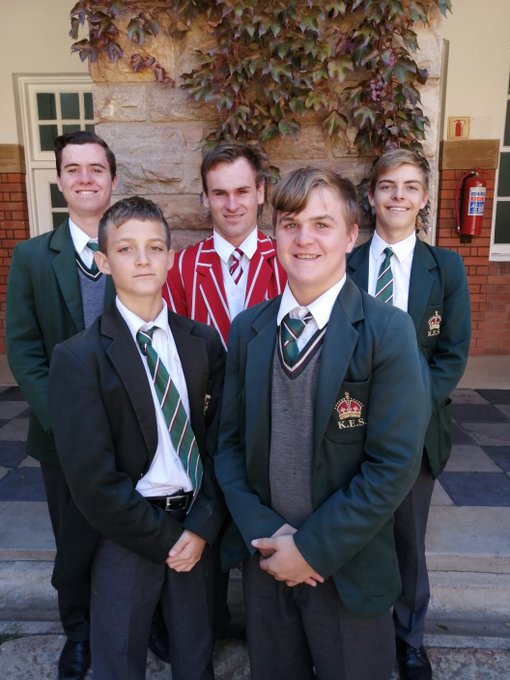 New Star Breaking Records
One of our newest Grade 8 athletes, Teejay Khayalihle Ngwenya just broke the 800m and 1500m records at the UJ top 10 meeting. The 800m hasn't been broken in 6 years! Outstanding performance!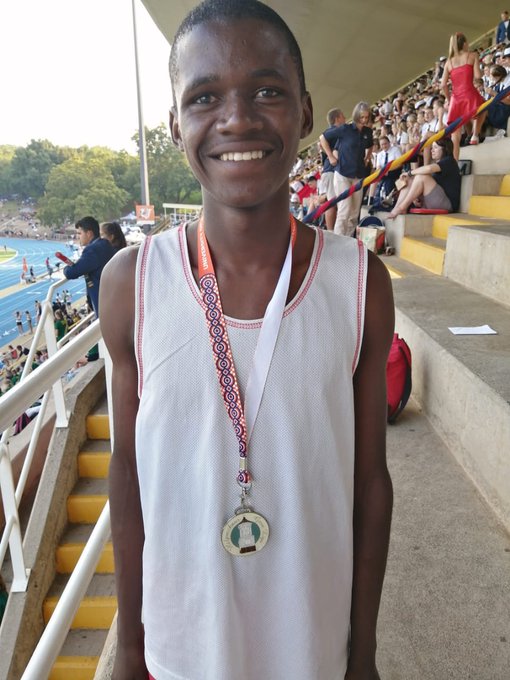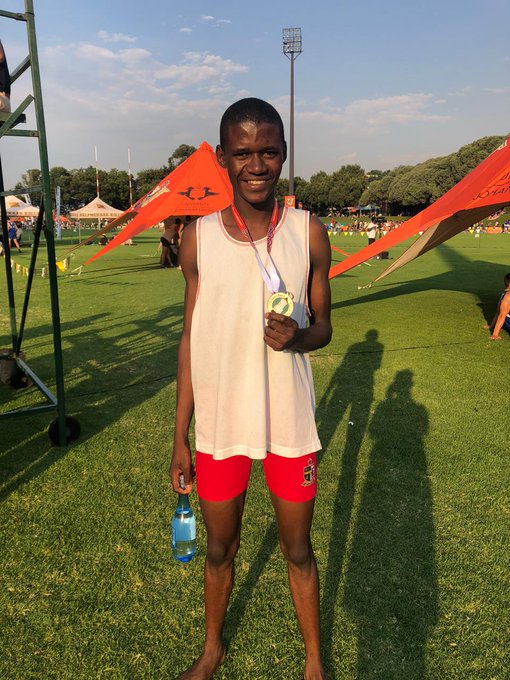 ---
Matric Dance 2020
Matric Dance 2020:
The King Edward VII School Matric Dance 2020 was held on 14th March at the Birchwood Hotel and Conference Centre.
The "Around the World" theme took the Matrics on an international adventure they won't soon forget. The KES marimba band performance as they entered the venue, as well as the decorations transported them to a destination filled with fantasy, hopes and dreams, in style.
A snippet of the spectacular evening:
---
Headmaster's Commendation Letters
Headmaster's Commendation Letters
Headmaster's Commendation: At a recent assembly Mr Lovatt handed out his first letters of commendation to two Grade 12 learners, Deklin Warwick & Andre Goliath as an acknowledgement for their willingness to assist a fellow learner during his time of distress, as a result of a medical emergency.
The boys demonstrated calmness under pressure and their actions demonstrated both care and compassion.
This was a wonderful example of Servant Leadership and we wish to formally commend Deklin & Andre for their involvement in this incident.
Well done boys!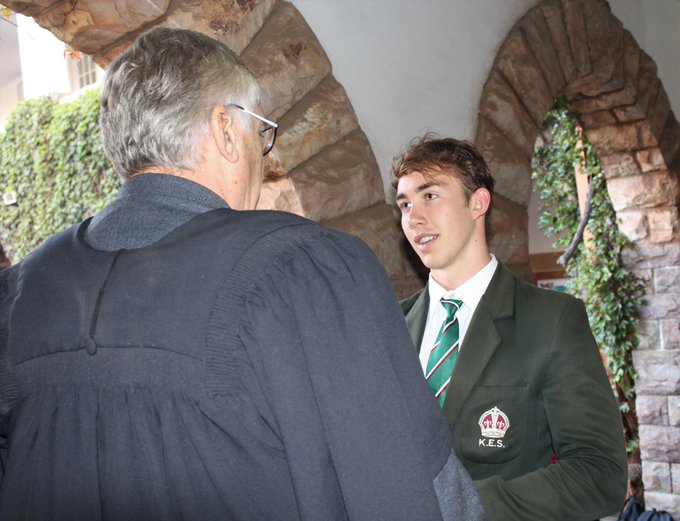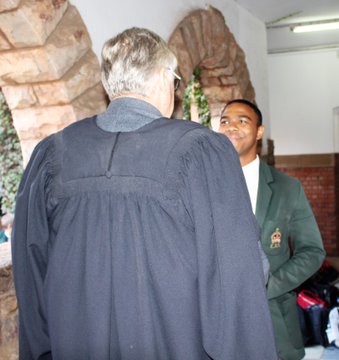 ---
Under the African Stars
Under the African Stars
Expressions Evening for Term 1 2020 was an wonderful showcase of our extremely talented learners! You did us proud!
---
Old Boys Achievements
Bryan Habana inducted into Laureus World Sports Academy
Old Boys Association
Congratulations to Martin Bain-Venn (Class of 1998) on being selected as the new Chairman of the Old Boys Association and Graham Berman (Class of 1987) who was re-elected as Vice-Chairman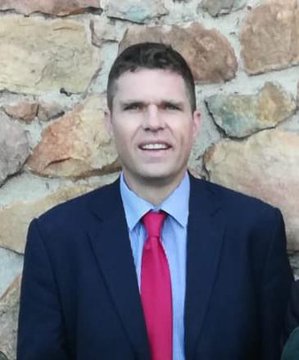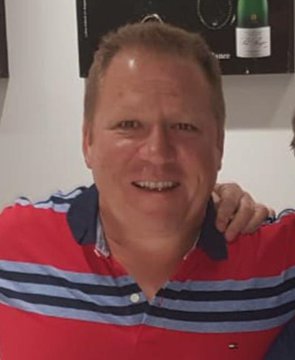 Quinton de Kock – Fastest to 200 Test Dismissals
Congratulations to Quinton de Kock (Class of 2011) becomes fastest to 200 Test dismissals. Playing in his 47th Test, he became the quickest to 200 Test dismissals, achieving the feat in one match less than Australia great, Adam Gilchrist. De Kock also became only the second South African to reach the milestone, emulating Proteas head coach Mark Boucher, who tops the overall list of most dismissals by a wicket-keeper.
All Rounder Bryce Parsons
The SA U19's
World Cup squad was captained by Old Boy al
l-rounder, Bryce Parsons. A true future star!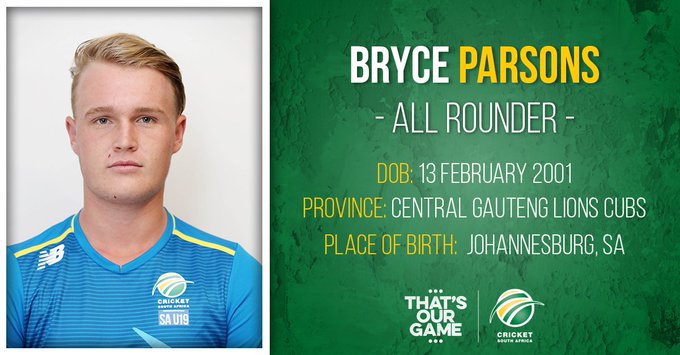 The Tradition of Excellence Continues into 2020
We are honoured to continue the tradition of excellence with our old boy's sons!
2020 Grade 8 Old Boy's Sons:
First Row: C. Lamprecht (1989), S. Faber (1986), Q. Marketos (1986), A. Lilienfeld (1992), C. Cabor (1991).
Back Row: T Ruckard (1988), M. Beeton (1988), C. Byrne (2002), L van der Merwe (1989), C. Ritchie (1991), J.Matheson (1991)
---
Aquatics Centre
Aquatics Centre:
The exceptional generosity of a loyal old boy benefactor, has culminated in the recent commencement of a 12 month project, scheduled for completion in July 2020,  to create a `game changing` new Aquatics facility for both our Schools. In pursuit of further enhancing the look and feel of our campus, the new Aquatics Centre has been conceived with inputs from a number of professionals, and will embrace inter alia the following:
Lightning protection
Fully covered roofing, thus permitting usage throughout inclement weather conditions
Retention of the Heritage component of the old swimming pool complex
Aesthetically pleasing architecture, providing yet another dimension to our campus
2 swimming pools, one of which will have  `learn to swim` lane functionality
Suitably appointed changerooms and new separate ablutions for all visitors
Multi purpose internal space to allow for a variety of usage options
The start of the aquatics season in September 2020 will preceded by the official opening of this magnificent addition to our amenities.
Update:
March 2020:
January 2020:
Imagery compliments of WCSE Design